Applying for a Mortgage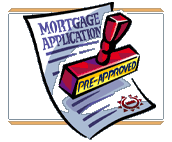 When you've decided on a lender and type of mortgage, your lender will provide a mortgage application. The "Uniform Residential Loan Application" requires personal information such as your income, assets, liabilities, and a description of the property.
You may need to pay an application fee that covers the lender's processing costs. Be sure to ask if the application fee is refundable. You can submit your application in person, by mail or fax, or online.
What are the next steps?

Print This Page